With the Common Service Data Model (CSDM) now recognizing the importance of Foundation Data, we decided to take a fresh look at our article from years ago. We originally published this article in 2019 and updated it a few times because Foundation Data remains relevant. Maybe more so now than ever before.
For us, it has always been clear that without a solid Foundation, you will not be able to enjoy the full benefits of your CMDB. This is as true in ServiceNow as in any other similar system. 
So – is your foundation in perfect shape? Do you really know?
Of course, it doesn't have to be perfect, and it probably never will be with things in constant flux. Nevertheless, keeping your Foundation Data in good shape will ensure other things can work as expected.
What is Foundation Data?
What do I mean by Foundation Data? Many IT Service Management systems, such as ServiceNow, refer to common data tables shared between multiple applications, processes, or use cases as foundation data. Usually, this refers to users, organizational structures, cost centers, locations, groups, etc.
ServiceNow added Foundation Data into their Common Service Data Model (version 3.0) in late 2020. In the 4.0 version of CSDM, the Foundation data is shown below the other domains. And ServiceNow describes these as "Core data tables" in the platform.
Learn more about CSDM 4.0 version from our CSDM 4.0 webinar companion page.
Foundation domain in the CSDM 4.0 conceptual data model by ServiceNow.
Foundation data can create a foundation for good service automation, reporting, and management. You can get the most out of your investment on the ServiceNow platform with a strong foundation.
With a strong foundation, you can expect to get the most out of your investment on the ServiceNow Platform.
Example Foundation Data Model for Users
I will show you a data model for user and organizational data. I will then dive into some example use cases that can fail due to issues in foundation data. In the end, I will also tell you what you can do to prevent such problems.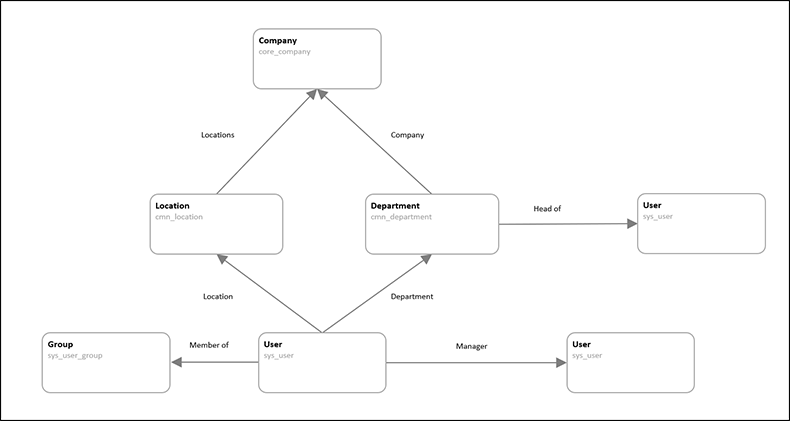 Simple User data model with organizational structures, location, groups, and managers.
The example data model above is still relatively simple but includes lots of important and useful information about the user and its relationships to organizational structures, locations, groups, and managers.
Examples: When Incomplete Foundation Data Causes Failures
Approvals
Foundation data is often used for approvals. For example, a line manager can approve small purchases or orders. However, above a certain level, upper-level approval is required from the Department head, for example.
Let's look at it through the data model. First, it's obvious that if there is no reference between the user requesting approval, and the approving line manager, the request will fail.
Line Manager Approval
The Manager information on User records can be invalid in many ways. Maybe it's simply missing, or the selected Manager is no longer in the house and has been deactivated. Check out this article on how to catch people leaving and keep this data up to date.
It is no different for higher-level approvals. The same issues apply to high-level approval requests or some other, alternative and more complex approval logic. The difference from the data point of view is that now more details can be wrong. For example, the link between a User and a Department or a Cost Center usually contains multiple references that need to be correct for the approval to go through as expected.
Department Head Level Approvals
Reporting
Often, the most important reason for having consistent and up-to-date foundation data is to ensure reliable reporting. Most, if not all, activities managed within ServiceNow reference Users as Customers, Assignees, and Managers. Behind these Users, a vast array of other foundation data should be available to report different activities based on users' organizational unit, location, or role within a company. Being able to report tasks, assets, and other essential information based on various organizational aspects is crucial to proper management and decision-making.
Organizational Structures are often used in Reporting.
I could bring up many examples related to reporting, but let's leave it to this one for now and move on.
My other favorite reporting-related data model is Common Service Data Model and how a (technical) CMDB should be connected to services. But we already talk about that in many you can access from our CSDM Solution page. Also, check out our CSDM Content Pack.
Service Subscriptions
ServiceNow has excellent capabilities for managing users who use or subscribe to different services. When creating a Service Portal for your customers and end users, the Service subscriptions can play a significant role in how the portal works and which services and catalog items are available to the user.
Again, the portal may not work as intended if the references are missing or incorrect. We had a webinar called "CSDM 4.0 Examples for a Data-Driven Portal" a while ago to discuss this topic with Venni Mäkäräinen, from ServiceNow, based on a related article on the ServiceNow Community.
Users can subscribe to the services via many different routes. 
Roles and Permissions
Using Groups to manage the roles and permissions of users in ServiceNow is recommended. Group memberships can also impact licensing.
Making sure that users belong to the correct groups may take time and effort. However, using Data Content Manager, you can establish simple controls to ensure that certain users belong to at least some active groups and are connected to different roles.
Users often get their permissions via group memberships.
Foundation Data is Important
From the use cases above (and many more not listed here), it is evident that Foundation Data is important. Furthermore, with Foundation Data displayed in the latest CSDM frameworks, it is clear that ServiceNow thinks so, too.
Therefore, organizations should put effort into keeping their Foundation Data up-to-date. When talking to our customers, we see increased interest in this. I suspect it has primarily to do with the inclusion of Foundation Data into CSDM (in version 3.0).
Please look at our CSDM Solutions page if you're not already familiar with it.
Data Content Manager Helps Ensure You Have Quality Data
With Data Content Manager, you can quickly draw a Blueprint that matches the above data models. You can then run an audit against that Blueprint to check how accurate and up-to-date your current foundation data is.
Example DCM Blueprint for User data.
You can immediately use the audit results to understand your current situation and make informed decisions on how to improve the quality of your Foundation Data. Furthermore, the audit can automatically create tasks when deviations occur and assign them to responsible persons or groups.
This way, the quality of your foundation data will not degrade over time.
There's an interesting article related to this in the ServiceNow Community that you may want to check: Operationalizing CSDM – approaching CSDM & foundation data considerations.
We have also described other user-related use cases in our blog, for example:
Take Control of Your Foundation Data
Thanks for reading. Next, I suggest that you watch our video: How to Improve Foundation Data in ServiceNow and CSDM. We talk about improving Foundation Data in detail and we show you how Data Content Manager helps.
Then, Book a Meeting with us, and we will give you a personal demo addressing your situation and challenges. We can also discuss the possibility of a Free Guided Trial in your own ServiceNow instance, with your own data.
There's no cost or commitment, and if we do a Guided Trial together, the results are yours to keep. So don't hesitate!