Enhancing data quality is never a solo endeavor. In a large organization, a big number of people will be actively involved in maintaining data quality. For instance, in a scenario with 1000 Business Applications, there will likely be upwards of 100 owners for these applications. It falls upon these owners to maintain the data pertaining to their respective applications within the Configuration Management Database (CMDB).
However, a challenge often faced is that these application owners might not be aware of their responsibility to update the CMDB. In some cases, they might not even know what the CMDB is, and they might not routinely use ServiceNow in their everyday tasks.
So, how can we encourage them to actively participate? I propose uggest two concrete tools that work together:
Define roles and responsibilities using the Consumer-Owner-Provider model
Make it personal. I'll talk about making it personal in this article.
For more extensive insights on easing your Common Service Data Model (CSDM) journey, consider checking out our eBook CSDM – The Recipe for Success.
The rationale behind personalizing data quality is straightforward: it brings into focus the expectations and existing data issues that an individual is required to address. When they rectify these issues, they can immediately witness a tangible, sometimes substantial, improvement in their personal data quality Key Performance Indicators (KPIs).
Contrasting this with a generic data quality KPI for the entire CMDB, the personal approach is much more gratifying. The generic KPI may remain unchanged, irrespective of individual efforts, particularly in an environment with a thousand Business Applications, of which an individual may be responsible for just five.
Personalizing data quality and enabling personal measurement opens up innovative motivation avenues. Why not gamify the process or even introduce a competitive element?
Some companies have even integrated  DCM's personal data quality KPIs into employee scorecards, partially influencing their bonuses.
How Do You Make It Personal?
Personalizing data quality measurements requires an appropriate tool. Data Content Manager (DCM) offers this functionality right off the shelf.
Upon creating a data model (Blueprint) with DCM, you need to establish a Data Provider Configuration. This configuration lets you connect with your data providers, communicate effectively, and supply them with personal metrics.
Now, let's explore how this process can be accomplished using the Data Content Manager.
Data Provider Configuration
You can establish a Data Provider Configuration when publishing a Blueprint in the Blueprint Designer. This configuration defines data management responsibilities at the record level. It specifies where we expect to locate individuals tasked with maintaining data according to that particular Blueprint.
When you run audits against that Blueprint, DCM automatically connects audit results and messages to individuals based on the Data Provider Configuration.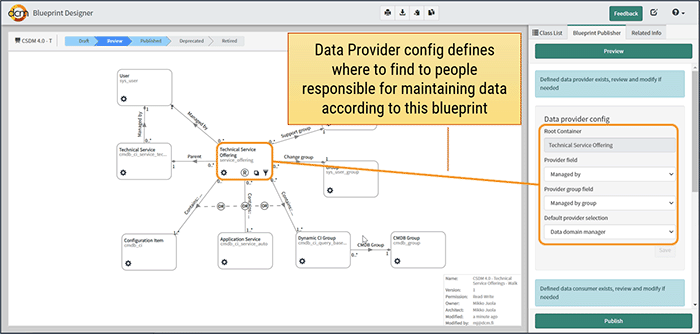 In the given configuration example, you would anticipate locating the individual responsible for a specific Technical Service Offering either in the 'Managed By' field or the 'Managed By Group'. If the audit is unable to find any data from these fields, it will default to the Data Domain Manager.
My Data Quality Dashboard
For individual data providers, determining whether they have effectively contributed to enhancing data quality can be challenging. Typically, reporting is done at a high level, and any individual improvements in generic metrics are so subtle that they're hardly noticeable.
While the CMDB Health and CSDM Data Foundations Dashboards do provide some data quality metrics these metrics lack personal relevance. They offer minimal feedback to the individual people and teams who are accountable for various applications, services, and technical configuration items.
Data Content Manager personalizes this experience. Below is an illustration of a "My Data Quality Dashboard" that exclusively presents results for data under the current user's responsibility. The dashboard in the example is further filtered to show only Business Application and Technical Service Offering data.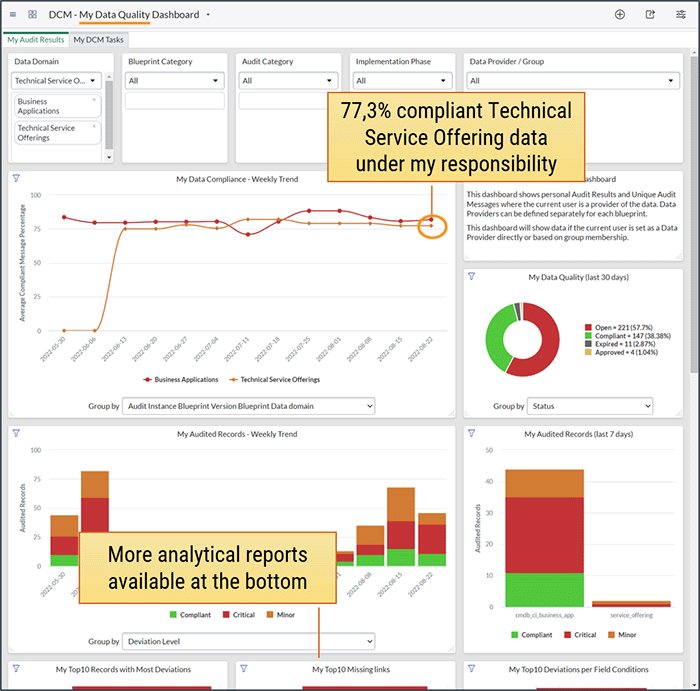 By default, all data displayed on this dashboard is filtered according to the Data Provider configurations. It exclusively showcases results for records that fall under the responsibility of the current user. This is making data quality personal in a very concrete way.
When the user addresses any issues detected during the audit, they can instantly witness the improvements reflected in their personalized dashboard. This direct feedback loop makes data management more rewarding and ensures a higher level of accountability and engagement.
The capability to do all of the above is included in Data Content Manager and requires absolutely zero coding or report customization. When you set up the Data Provider Configuration for a Blueprint, these are results that you get automatically when running audits.
To get started, you need Data Content Manager. Book a session with us from our online calendar below, and we will show you how the tool works, and how easily you can get started with it.
To see how Data Content Manager works in your own environment, please request a Guided Trial from us. A Guided Trial allows you to experience the power of Data Content Manager in your own ServiceNow instance, with your own data. We will guide you through installation, creating Blueprints, running Audits, and interpreting results.
The results are yours to keep.
There's no cost or commitment since we know this is the easiest way for you to experience the power of Data Content Manager.